White Bean Soup With Sausage and Fall Vegetables
Updated July 1, 2017 by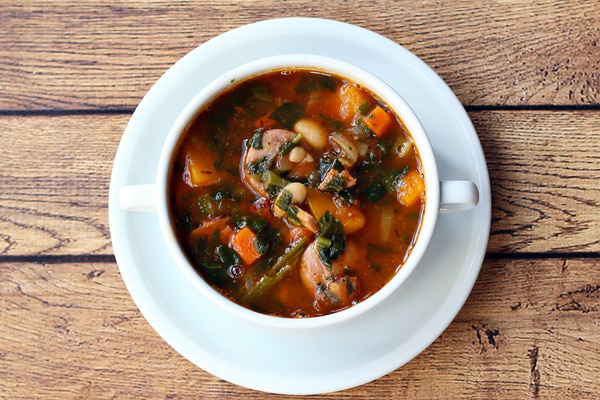 This hearty bean and sausage soup is a symphony of fall flavors. Winter squash, carrots, ham, sausage, and tomatoes are among the ingredients. Use a mild, fully cooked chicken sausage or smoked sausage in the soup.
Prep Time: 25 minutes
Cook Time: 1 hour 40 minutes
Total Time: 2 hours 5 minutes
Ingredients:
Instructions:
Heat the olive oil in a large saucepan or Dutch oven over medium heat. Add the onion; cook until onion is just softened. Add the bay leaves, celery, carrot, ham, and sausage and cook, stirring, for another 4 to 5 minutes, until the sausage and ham are lightly browned. Add the minced garlic and cook for 1 minute longer.
Add the winter squash or pumpkin to the pot, along with the chicken broth, tomatoes, and thyme. Bring to a simmer. Reduce heat to low and simmer, uncovered, for about 1 hour.
Add the drained beans and the frozen spinach. If the soup is too thick, add more stock. Cook for 15 minutes longer.
Taste and add salt and pepper, as needed.
Makes 8 Servings
Site Search