Apricot Cheesecake Bars
by
, October 14, 2017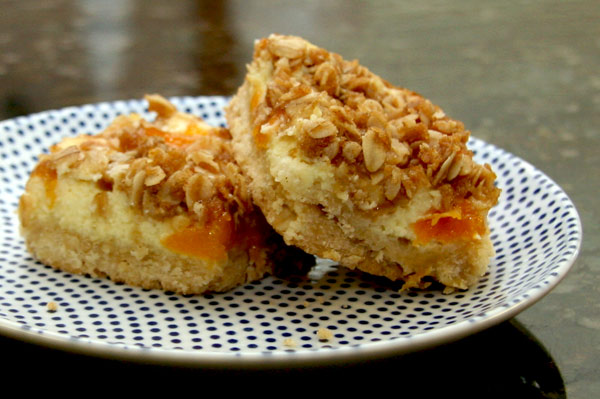 These easy cheesecake bars are made with a buttery brown sugar and oat crust and topping. The cream cheese layer is topped with diced apricots, but peaches would work as well.
Related:
Date Bars With Shortbread Crust and Crumb Topping
Easy Cake Mix Oat Bars With Chocolate Filling
Prep Time: 15 minutes
Cook Time: 35 minutes
Total Time: 50 minutes
Ingredients:
Crust:
Filling:
Topping:
Instructions:
Preheat the oven to 350 F.
Grease a 9-by-13-by-2-inch baking pan.
In a medium bowl, combine 2 cups of flour with 1/2 cup of packed brown sugar, 1/3 cup of oats, and 1 1/2 sticks of softened butter. With fingers or a pastry blender, combine the mixture until blended. Press the mixture into the prepared baking pan. Bake for 10 minutes.
In a mixing bowl with an electric mixer, beat the cream cheese until smooth and creamy. Add 1/2 cup of granulated sugar, the vanilla, and the eggs; beat until blended. Pour the mixture over the hot baked crust. Sprinkle the diced apricots over the cream cheese layer.
Combine the remaining 2/3 cup of oats, 1/4 cup of flour, 1/4 cup of brown sugar, 1/2 teaspoon of cinnamon, and 4 tablespoons of melted butter. Add chopped nuts, if desired. Blend until crumbly and sprinkle over the apricot layer.
Bake for 25 minutes, or until the filling is set and the topping is lightly browned.
Makes about 24 servings.
Site Search