Oatmeal Cake With Easy Coconut Topping
by
, Updated April 25, 2017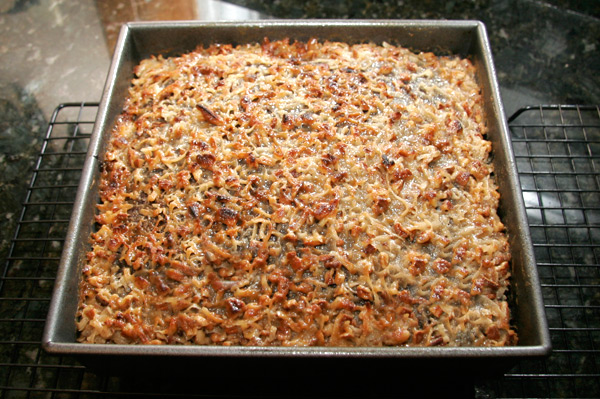 This spiced oatmeal cake is made with a delicious coconut pecan frosting which goes on the hot cake and is lightly browned.
Prep Time: 10 minutes
Cook Time: 55 minutes
Total Time: 1 hour 5 minutes
Ingredients:
Coconut Topping
Instructions:
Bring water to a boil.
Put the oats in a bowl then stir in the boiling water until blended. Set aside to cool, about 30 minutes.
Heat oven to 350 F.
Grease and flour a 9-inch square baking pan or spray with baking spray.
Combine the flour, baking soda, and spices. Set aside.
In a large bowl with an electric mixer, cream the 1/2 cup of butter until light. Add granulated sugar and 1 cup brown sugar gradually, beating well. Add the eggs, one at a time, beating well after each addition. Beat in vanilla.
Mix in the oat mixture until blended. Slowly beat in the flour mixture until blended.
Spoon the batter into the prepared baking pan. Bake for 45 to 50 minutes, or until the cake springs back when lightly touched with a finger.
Meanwhile, combine the topping ingredients. Spread the topping over the hot cake and bake for 10 minutes longer, or until topping is lightly browned.
Topping
Blend together the peanut butter, cream, and vanilla. Add sifted confectioners' sugar, adding more cream or confectioners' sugar if necessary for spreading consistency.
Spread a thin layer of icing over cooled cake.
Serves 16

Calories per serving:

295
Site Search