Easy Ground Beef and Pasta Casserole
by
, Updated September 5, 2017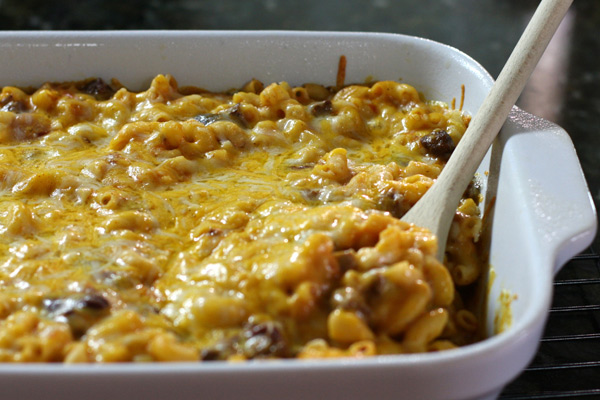 This is a basic but hearty and delicious casserole, made with pasta and ground beef, along with tomatoes and seasonings. Top this casserole with Monterey Jack cheese or use a blend shredded American and Jack or Cheddar cheeses.
Prep Time: 12 minutes
Cook Time: 48 minutes
Total Time: 1 hour
Ingredients:
Instructions:
Heat oven to 350 F.
Lightly spray or grease an 11-by-7-inch baking dish.
Cook pasta according to package directions until just tender; drain well.
In a large skillet over medium heat, saute beef with onion and celery, breaking up with a spoon. Cook, stirring, until almost cooked through.
Add garlic and salt and cook for 2 to 3 minutes longer.
Stir in the tomatoes, tomato sauce, granulated sugar, and the cooked drained pasta.
Spoon into the prepared baking dish and cover dish tightly with foil.
Bake for 30 to 40 minutes, or until hot and bubbly. Remove foil.
Sprinkle with the cheese and bake uncovered for about 5 minutes longer, or until cheese is melted.
Serves 6

More Beef Casserole Recipes and Beef Pies
Meatball and Potato Casserole
Cheeseburger Pie
Tamale Spoon Bread Casserole
Shepherds Pie Recipe - English Shepherds Pie

Site Search