Pineapple Chess Pie
by
, Updated April 11, 2017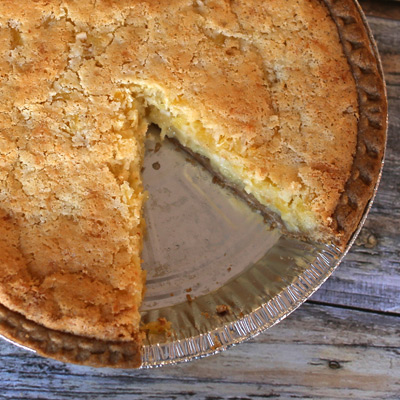 This flavorful pineapple pie is made with eggs, pineapple, sour cream, and other ingredients. This pie is baked in a pastry pie shell.
Prep Time: 15 minutes
Cook Time: 55 minutes
Total Time: 1 hour 20 minutes
Instructions:
Heat the oven to 425 F.
Line the unbaked pie shell with foil or parchment paper and add pie weights or dried beans.
Bake pie shell at 425 F for 7 minutes. Remove from oven and remove the pie weights and foil or paper. Reduce the oven temperature to 325 F.
Drain pineapple; sprinkle with the flour.
In a bowl with an electric mixer, cream butter with sugars, vanilla, and salt, until light and fluffy. Beat in eggs, one at a time, beating until mixture is smooth. Stir in sour cream and pineapple.
Turn the filling mixture into the partially baked pie shell, mounding in center.
Bake at 325 F for 50 to 60 minutes, until set and browned.
Remove and cool thoroughly.
Garnish with whipped cream to serve.
Site Search