Shish Kebab
by
, Updated April 11, 2017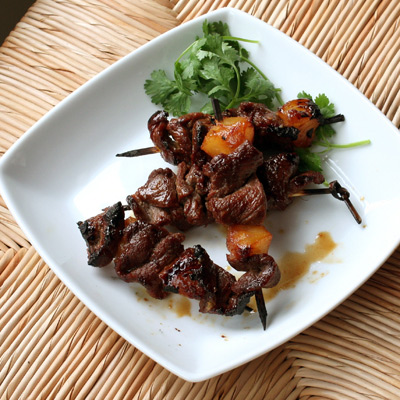 These delicious kebabs include lemon juice, onion, mushrooms, and bell peppers. Serve these kebabs over hot boiled rice. Feel free to use beef instead of lamb in this recipe. Allow plenty of time for the meat to marinate. For a tropical twist, add cubes of pineapple to the skewers.
Prep Time: 12 minutes
Marinate: 4 hours
Cook Time: 15 minutes
Total Time: 4 hours 27 minutes
Instructions:
Combine vegetable oil, lemon juice, onion, and salt, then pour over lamb in a glass container or baking dish.
Cover and refrigerate; let marinate for 4 to 8 hours.
Drain and arrange lamb cubes on skewers, alternating with mushrooms and green and/or red pepper wedges.
Place 4 inches from heat source and broil for about 15 minutes, or until done, turning to cook evenly.
Serves 6

Calories per serving:

345
Site Search