Old-Fashioned Molasses Cookies
by
, Updated April 10, 2017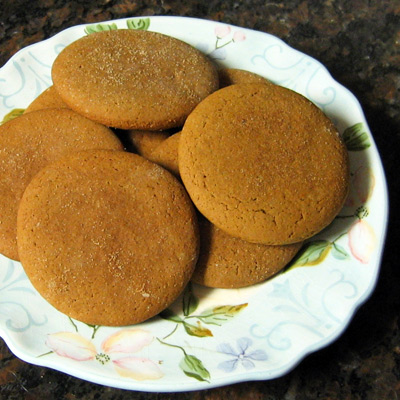 Molasses cookies are one of my favorite cookies, and these refrigerator style molasses cookies are easy to slice and bake.
Prep Time: 15 minutes
Cook Time: 10 minutes
Total Time: 25 minutes
Instructions:
Into a bowl sift together flour, baking soda, salt, and spices.
In a mixing bowl with an electric mixer, beat the shortening until smooth; add brown sugar and cream until light and fluffy. Add molasses, egg, and vinegar; beat until smooth and light.
Add dry ingredients a little at a time, stirring after each addition.
Chill dough for 1 or 2 hours.
Heat the oven to 350 F.
Divide dough into 3 portions; shape each into a roll about 2 inches in diameter.
Wrap each roll in waxed paper; chill for at least 4 hours or overnight.
Slice 1/8 to 1/4-inch thick and place on ungreased baking sheets.
Bake for about 10 minutes, or until cookies are done.
Makes about 4 to 5 dozen cookies, depending on thickness.

Calories per cookie (based on 48 cookies):

80
Site Search