Sweet and Sour Pork
by
, Updated April 10, 2017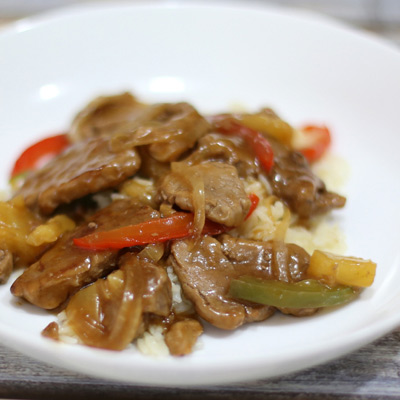 Use lean country style ribs in this classic sweet and sour pork recipe or use about 1 1/2 pounds of cubed pork loin or boneless loin chops.
Prep Time: 15 minutes
Cook Time: 1 hour 20 minutes
Total Time: 1 hour 35 minutes
Instructions:
Heat oil in large skillet over medium heat; saute pork until lightly browned; drain off excess grease.
Drain pineapple; reserve juice.
Combine pineapple juice, 3/4 cup water, vinegar, soy sauce, brown sugar, and salt; pour over pork in skillet. Cover and simmer 1 hour, or until meat is tender.
In a small bowl or cup, combine cornstarch and 2 tablespoons water; stir until smooth. Add cornstarch mixture to pork mixture. Cook over low heat, stirring constantly, until mixture is thickened and bubbly.
Add pineapple chunks, onion, and green pepper. Cover and simmer sweet and sour pork for 10 minutes longer, or until vegetables are tender.
Serve sweet and sour pork over rice.
Serves 4 to 6.

Calories per serving (based on 5 servings):

606
Site Search