Old-Fashioned Spoonbread
by
, Updated April 9, 2017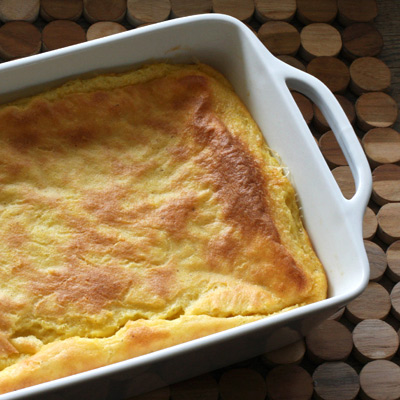 This old-fashioned spoon bread is a cornmeal pudding-like dish. Serve it instead of cornbread or as a side dish. It goes especially well with beans and greens. Feel free to add a little sugar to this mixture to make a sweeter spoonbread.
Prep Time: 10 Minutes
Cook Time: 30 Minutes
Total Time: 40 minutes
Instructions:
Heat the oven to 350 F.
Combine cornmeal and salt in a mixing bowl. Stirring constantly, gradually add boiling water, keeping smooth; stir in the melted butter.
In a separate bowl, beat eggs until thicken and pale in color. Add milk and beat to combine. Add milk and egg mixture to the cornmeal mixture with baking powder. Beat with an electric mixer or whisk to blend.
Turn into a generously greased 8-inch square glass baking dish.
Bake for about 30 minutes, until firm. Serve with plenty of butter.
Serves 8

Calories per serving:

114
Site Search