Braised Short Ribs
by
, Updated April 9, 2017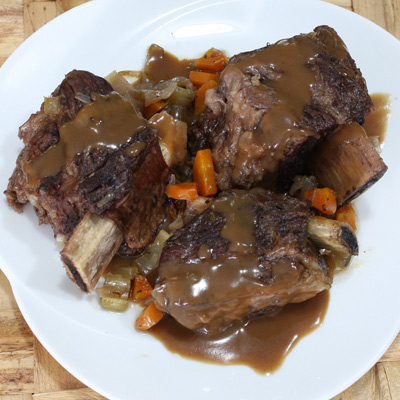 The slow cooker is the perfect way to cook delicious, melt-in-your mouth beef short ribs. After cooking, keep the ribs warm and separate the fat from the juices. Cook the juices down in a saucepan on the stovetop for about 6 to 8 minutes. If you want to thicken the juices, use about 1 tablespoon of flour mixed with a tablespoon of cold water; stir the mixture into the reduced juices.
Prep Time:
10 Minutes

Cook Time: 8 Hours
Total Time: 18 minutes


Instructions:
Combine flour, oregano, parsley, salt, and garlic powder; coat short ribs with mixture by dredging or shaking in a food storage bag. Discard any remaining flour mixture.
In a skillet over medium heat, brown short ribs on all sides in hot oil. Drain well and place in slow cooker. Add chopped onions, carrots (if using), water, and beer.
Cover and cook on low heat for 10 to 12 hours, or on high for 5 to 6 hours.
Serve with rice or potatoes.
If desired, skim off fat and put juices in a saucepan and cook down until reduced and more flavorful. Mix together a little flour and cold water and add to juices if you want a thicker gravy to serve with the meat (stir in a little at a time while cooking until desired thickness).
Serves 6

Calories per serving:

759
Site Search