Chicken a la King Recipe
by
, Updated April 9, 2017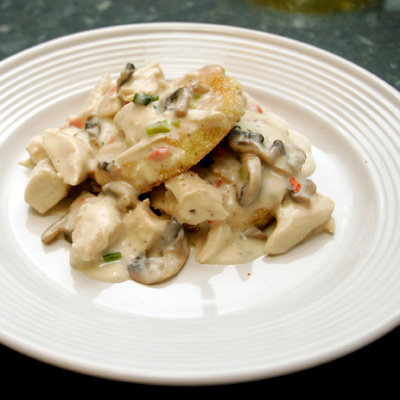 Chicken a la king has long been a family favorite, and it's made so quickly. Use diced rotisserie chicken in this recipe for an even faster prep time. I love mushrooms, but feel free to leave them out or use cooked peas or carrots instead. Serve the chicken over biscuits, puff pastry cups, rice, or grits.
Prep Time: 10 minutes
Cook Time: 18 Minutes
Total Time: 28 minutes
Instructions:
Melt butter in a medium saucepan. Add mushrooms and green pepper; cook for 5 minutes. Blend in flour, salt, and pepper. Continue stirring and cooking for 2 minutes. Gradually add milk and chicken broth, stirring constantly. Cook for 10 minutes, stirring frequently.
If you'd like a thicker sauce, blend 2 tablespoons of cornstarch with 1/4 cup cold water; add to sauce, a little at a time, until desired thickness is reached. Cook for a few more minutes.
Add chicken and pimiento; heat through.
Serve on toast points or pastry shells or rice.
Serves 6

Calories per serving:

295
Site Search