Strawberry Rhubarb Pie
by
, Updated April 6, 2017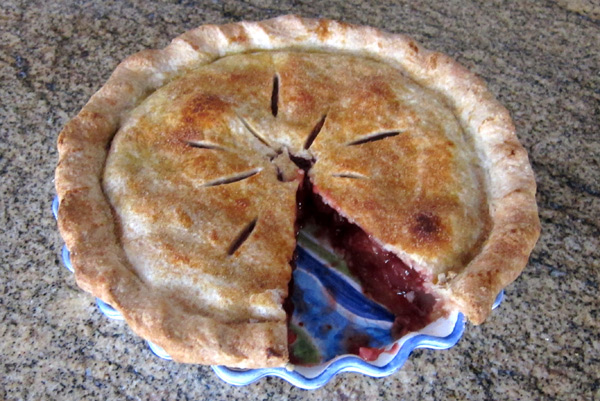 This pie is a great way to use fresh spring rhubarb and strawberries. Celebrate the season with this wonderful pie!
Prep Time: 30 minutes
Cook Time: 50 minutes
Total Time: 1 hour 20 minutes
Ingredients:
Instructions:
Prepare the pie pastry and separate it into two disks. Refrigerate for 20 to 30 minutes.
Roll half of the dough out to about 11 inches in diameter. Fit the pastry into a 9-inch pie plate.
In a large bowl combine the sugar, tapioca, salt, cinnamon, and nutmeg. Stir in the sliced rhubarb and strawberries until well blended. Let stand for 15 minutes.
Heat the oven to 400 F.
Spoon the fruit mixture into the prepared pie crust. Dot with the small pieces of butter.
Roll the remaining pastry disk out and place it over the top of the pie; trim the edges and crimp as desired.
Cut several slits in the top of the pie to serve as a vent for steam.
Bake for 20 minutes. Reduce the oven temperature to 350 F and bake for about 30 to 40 minutes longer, or until the pie is nicely browned and filling is bubbly.
Cool on a rack.
Serve the strawberry rhubarb pie warm or at room temperature with a scoop of ice cream or whipped cream.
Makes about 8 servings.
Site Search