Osso Buco, Braised Veal Shanks
by
, Updated April 6, 2017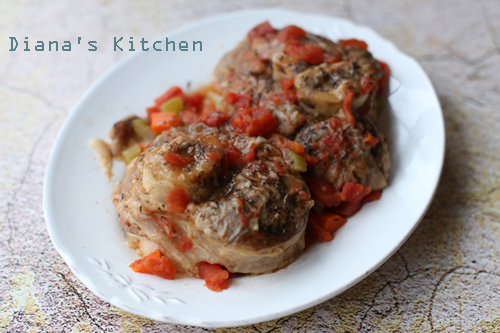 Ossobuco, in Italian, translates to "bone with a hole." It is traditionally served with a gremolata. This version is made with tomatoes, and it is very easy to prepare and cook in the slow cooker. We enjoyed this dish with mashed potatoes, but polenta is another popular choice.
Prep Time: 15 minutes
Cook Time: 6 hours 30 minutes
Total Time: 6 hours 45 minutes
Ingredients:
Optional Gremolata
Instructions:
Put the flour in a wide dish or pie plate. Dredge the veal shanks, coating all sides. Sprinkle the veal with salt and freshly ground black pepper.
Heat the butter and olive oil in a large skillet over medium heat. When the butter begins to foam, add the coated veal shanks. Cook, turning to brown both sides, for about 5 minutes per side. Transfer the shanks to the slow cooker insert.
Add the white wine to the skillet to deglaze and scrape up browned bits then pour over the veal. Add the chicken broth to the slow cooker along with the tomatoes (undrained), chopped onion, carrot, celery, bay leaf, and thyme. Cover and cook on LOW for 7 to 9 hours, or on HIGH for about 3 1//2 to 4 1/2 hours, or until very tender.
Transfer the veal to a platter; cover loosely with foil and keep warm. Pour the sauce from the slow cooker into a large saucepan or skillet. Simmer over medium heat for about 8 to 100 minutes, or until reduced to about 2 to 2 1/2 cups. Taste and add salt and pepper, as needed. Pour over the veal shanks.
For the gremolata, if desired, combine the parsley and lemon zest; sprinkle over the veal shanks before serving.
Serves 4

You Might Also Like
Veal Cutlets with Mushroom Sauce
Veal with Paprika Cream
Veal Parmigiana

Site Search