Braised Red Cabbage with Apple and Spices
by
, Updated September 5, 2017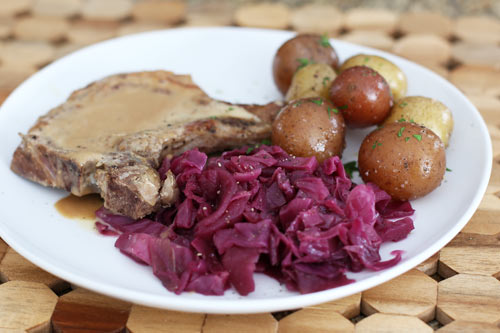 Serve this tasty spiced red cabbage with pork, ham, or sausages, along with potatoes or a potato salad. This dish makes a tasty side dish, and it is really very easy to prepare.
The subtle spices and some brown sugar and vinegar help to flavor the cabbage, along with garlic and sliced apple.
Prep Time: 15 minutes
Cook Time: 32 Minutes
Total Time: 47 Minutes
Instructions:
Heat the 2 tablespoons of butter and 1 tablespoon of vegetable oil over medium-low heat. Add the chopped onion and cook, stirring, until the onion is softened and translucent. Add the poressed garlic and cook, stirring, for one minute longer.
Meanwhile, cut the peeled and cored apples in wedges and cut the wedges lengthwise into thin slices.
To the onion mixture, add the cabbage, apple slices, wine, vinegar, brown sugar, bay leaf, cinnamon stick, and allspice. Bring to a simmer. Cover and simmer slowly over low heat for about 30 minutes, or until the cabbage is very tender.
Remove the cinnamon stick and bay leaf.
Serves 6
Site Search