Pasta Salad With Ham and Peas
by
, Updated April 6, 2017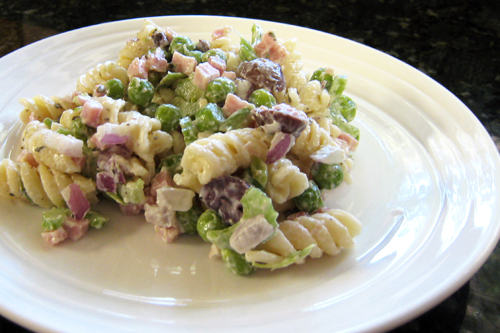 This tasty pasta salad will make you think spring. Frozen steamed peas and ham make a delicious combination, and the mayonnaise and ranch dressing flavors the salad perfectly. I used rotini in the salad but it would be fantastic with elbows or a similar pasta. Feel free to vary the vegetables. The ripe olives add nice flavor, but you can omit them if you'd like.
Prep Time: 20 minutes
Cook Time: 8 minutes
Total Time: 28 minutes
Ingredients:
Instructions:
Cook the rotini in boiling salted water following the package directions Transfer the pasta to a colander and rinse it under cool running water.
Drain the pasta and transfer it to a large bowl.
Add the sliced celery, red onion, ham, peas, and olives, if using.
In another bowl, combine the mayonnaise, ranch dressing, basil, garlic powder, and salt and pepper, to taste.
Stir the dressing mixture into the pasta mixture until well blended. Add more mayonnaise, if necessary.
Cover and chill for at least 2 hours or overnight before serving.
Serves 6 to 8.
Site Search