Deviled Eggs With Bacon
by
, Updated April 6, 2017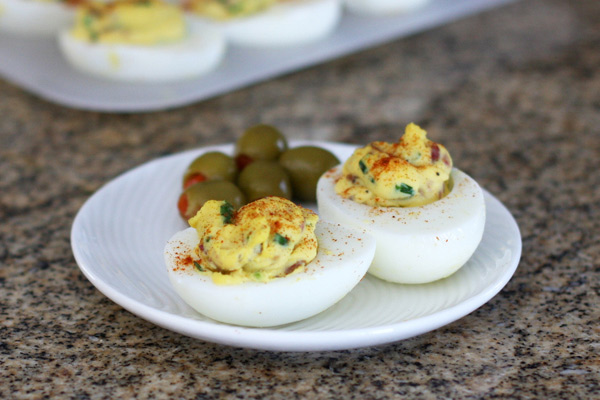 Crumbled cooked bacon makes these deviled eggs extra special. Finely chopped red onion is added to the eggs as well. Feel free to add some finely chopped fresh chives or parsley. Garnish the eggs with olive halves or slices of pimiento. If you don't have an egg plate, line a plate with lettuce leaves or other greens to keep the eggs from rolling.
Prep Time: 15 minutes
Cook Time: 15 minutes
Total Time: 30 minutes
Ingredients:
Instructions:
Fry the bacon until just crisp; drain on paper towels. Crumble the bacon and set aside.
Put the eggs in a medium saucepan and cover with water to a depth of about one inch above the eggs.
Bring the eggs to a full boil over high heat. Cover the pan and remove it from the heat; let stand for 17 minutes.
Pour off the hot water and cover the eggs with cold water.
When the eggs are cooled enough to handle, peel.
Slice the eggs in half lengthwise and set them on a platter or egg plate. Scoop the yolks out into a medium bowl.
Mash the yolks with a fork; add 6 tablespoons of the mayonnaise, the crumbled bacon, herbs, if using, and finely chopped red onion. Add more mayonnaise, if desired. Taste and add salt and freshly ground black pepper, as needed.
Using a small spoon or cookie scoop, fill the egg white halves with the yolk mixture.
Garnish with olive slices or pieces of pimiento, if desired. Sprinkle lightly with paprika.
Refrigerate the eggs until serving time.
24 Appetizers
Site Search