Casino Stuffed Mushrooms
by
, Updated April 5, 2017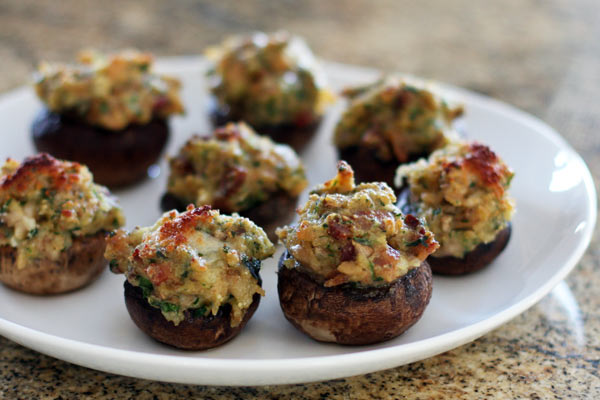 The stuffing in these mushrooms is similar to one of my favorite appetizers, Clams Casino. They are stuffed with a savory bacon and clam mixture, and they are very easy to prepare and bake. Feel free to double the recipe for a crowd. They make a fabulous appetizer for a party or weekend gathering.
Prep Time: 15 minutes
Cook Time: 30 minutes
Total Time: 45 minutes
Ingredients:


Instructions:
Preheat oven to 375 F. Line a jelly roll pan or baking pan with foil. Place a cooling rack in the pan.
Rinse mushrooms and pat dry. Carefully remove the stems. Chop the stems and set aside.
Melt the butter in a skillet over medium-low heat; brush each mushroom cap lightly with a little butter; arrange the caps, rounded side down, on the rack.
Add the chopped stems, chopped onion, and bell pepper to the remaining butter in the skillet and cook, stirring, until onion is tender. Add the parsley, chopped bacon, lemon juice, drained minced clams, and bread crumbs. Stir to blend ingredients and remove from heat.
In a bowl, beat the egg lightly. Add the slightly cooled crumb mixture and blend well. Mound stuffing in each mushroom cap. Sprinkle each with a little grated Parmesan cheese.
Bake for 20 to 25 minutes, until nicely browned.
Makes about 12

Calories per stuffed mushroom: 112
Fat per stuffed mushroom: 7.5

Site Search