Southern Bacon Cheddar Cornbread
by
, Updated April 5, 2017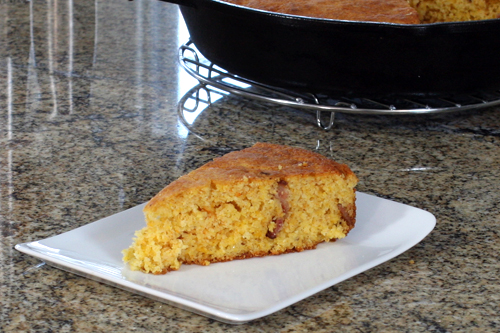 Bits of crumbled bacon and cheddar cheese flavor this savory Southern buttermilk cornbread. Add pepper jack cheese instead of the cheddar for extra heat, or mince a jalapeno pepper and mix it into the batter. The best crust comes from a hot cast iron skillet, but a metal baking pan (9-inch) will work as well.
Prep Time: 10 minutes
Cook Time: 25 minutes
Total Time: 35 Minutes
Ingredients:
Instructions:
Heat the oven to 425 F.
Put a few teaspoons of vegetable oil in the skillet along with 2 to 3 teaspoons of reserved bacon drippings, or coat the skillet with about 1 1/2 tablespoons of vegetable oil.
Place the skillet in the oven to heat.
In a large bowl, combine the crumbled bacon with the cornmeal, flour, salt, baking powder, soda, and shredded cheese. Stir to blend; set aside.
In a medium bowl, combine the 1/4 cup of vegetable oil with the eggs and buttermilk. Whisk to blend thoroughly.
When the oven has come to temperature, carefully remove the hot skillet from the oven and place it on a trivet.
Pour the wet ingredients into the dry ingredients and mix just until well blended. Immediately pour the cornbread batter into the hot skillet; return the skillet to the oven.
Bake the cornbread for 22 to 25 minutes, or until nicely browned and crusty looking around the edges.
Remove to a rack to cool slightly before cutting.
Slice the cooled cornbread into wedges and serve it with chili, beans, or greens.
Serves 8 to 10.
Site Search