Hot and Spicy Hunan Chicken
by
, Updated April 3, 2017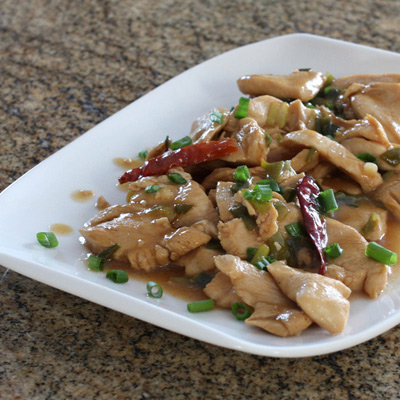 This Hunan style chicken is made with hot peppers and a flavorful spiced sauce.
Prep Time: 30 minutes
Marinate: 20 minutes
Cook Time: 10 minutes
Total Time: 60 minutes
Marinade
Ingredients:
Instructions:
Marinate chicken for 20 minutes in ginger, sherry, soy sauce mixture.
Cut green onions and hot peppers diagonally into 1-inch pieces.
Mix chicken broth, 1 tablespoon soy sauce, wine vinegar, sugar, salt and the anise pepper.
Heat oil. Add scallion, and stir fry for a few minutes. Add ginger, sherry, soy mixture and chicken to scallions and hot pepper, and stir-fry for about 2 minutes longer. Add chicken broth mixture, mix well. Cook over low heat until chicken pieces are tender. Add cornstarch to thicken.
Serve with hot cooked rice.
Serves 6

Calories per serving:

395


Fat per serving:

23.9g




General Tso's Chicken
Jamaican Jerk Chicken
Chicken and Turkey Recipes Index
Site Search