Cottage Pie
by
, Updated April 1, 2017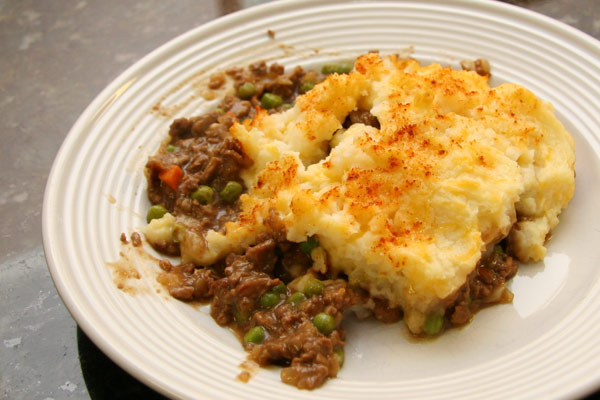 This is a tasty shepherd's pie -- more appropriately called cottage pie -- made with ground beef, mashed potatoes, and seasonings.
Prep Time: 15
Cook Time: 55 minutes
Total Time: 1 hour 10 minutes
Ingredients:
Instructions:
Brown ground beef and onions in 2 tablespoons butter until the onions are golden. Add the
ketchup, Worcestershire sauce, salt, and pepper. Add a few tablespoons of beef broth and cook,
covered, over low heat for 15 to 20 minutes, adding more beef broth as necessary to keep moist.
In a bowl, beat egg yolks until light and then, in another bowl, beat whites until stiff.
Beat the yolks, cream, 6 tablespoons butter, and garlic powder into hot mashed potatoes.
Gently fold in beaten egg whites.
Put meat mixture into a casserole then top with potato mixture.
Sprinkle with Parmesan cheese and bake at in the preheated oven until potato topping is puffed and browned, about 25 to 35 minutes.
Serves 6

Calories per serving:

525


Fat per serving:

28.2g



Site Search