Veal Cutlets With Creamy Tomato Sauce
by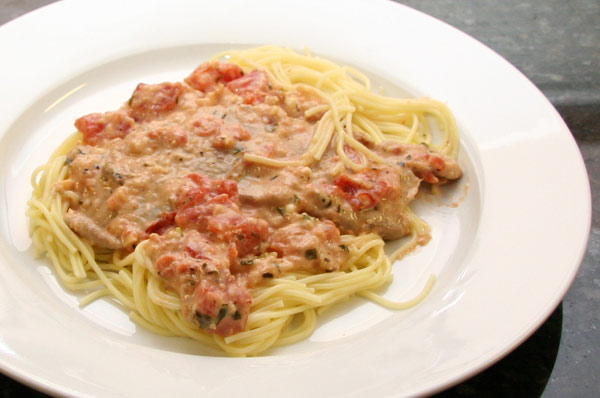 Veal cutlets make a fast and easy meal with hot cooked angel hair pasta or rice. The cutlets are browned and then finished in a tomato and cream sauce. Basil and garlic flavor the sauce.
Related:
Creamy Veal Marsala
Prep Time: 10 minutes
Cook Time: 9 minutes
Total Time: 19 minutes
Ingredients:
Instructions:
If the veal cutlets are thick, put them between sheets of plastic food wrap and pound to about 1/8-inch thickness. Sprinkle the cutlets with kosher salt and ground black pepper. Dust with the flour.
Heat the oil in a large skillet over medium heat. Cook the cutlets for about 4 to 5 minutes, turning to brown both sides. Add the garlic and wine and cook for 1 minute longer.
Add the tomatoes to the skillet along with the basil and bring to a simmer. Add the cream and heat through.
Taste and adjust seasonings.
Serve with hot cooked angel hair pasta, noodles, or rice.
Makes 4 servings.
Site Search