Lemon Bars
by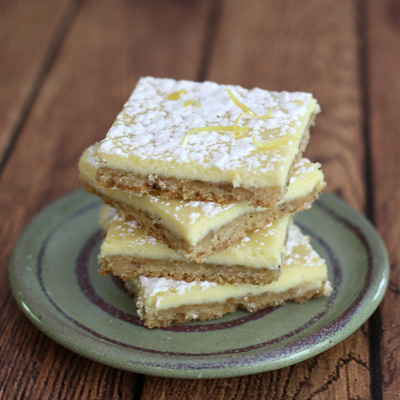 These luscious lemon bars are always a hit! Make the lemon bars for a party or get-together, or take them along to a potluck dinner. They make a great weekend treat as well.
Prep Time: 15 minutes
Cook Time: 40 minutes
Total Time: 55 minutes
Ingredients:
Instructions:
Preheat the oven to 350 F.
Combine the 1 cup of all-purpose flour, 1/4 cup of powdered sugar, and softened butter. Work together with a pastry blender or food processor until the mixture resembles fine crumbs. Press into the bottom of an 11.7-inch baking pan to make a crust. Bake for 15 minutes.
In a mixing bowl, beat the eggs slightly. Add the lemon juice, 3 tablespoons of flour, baking powder, granulated sugar, and lemon zest. Spread the lemon mixture over the baked crust and bake for 25 minutes longer.
Remove the pan to a rack to cool. When the bars have cooled, dust with powdered sugar and cut into squares.
Makes about 20 bars

Calories per bar:

143


Fat per bar:

5.4



Site Search