Easy Boneless Chicken Breasts With Walnuts
by
, July 17, 2017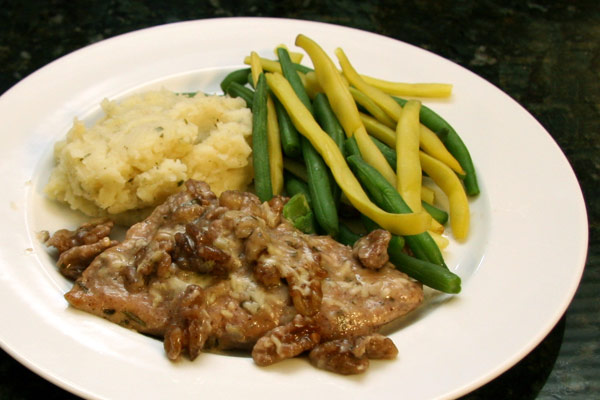 This easy chicken breast recipe is made with a flavorful walnut sauce. Garlic, rosemary, walnut halves, fresh Parmesan cheese, and parsley are among the ingredients. "
Prep Time: 15 minutes
Cook Time: 20 minutes
Total Time: 35 minutes
Ingredients:
Instructions:
If the chicken breasts are large (8 to 10 ounces or more), use 3 chicken breasts. Slice each chicken breast in half horizontally to make six cutlets. If they are smaller, put them between sheets of plastic wrap and pound to an even thickness.
In a bowl, combine the flour, 1/2 teaspoon of salt, pepper, rosemary, and parsley. Coat the chicken breasts with the flour mixture.
In a large skillet over medium heat, melt the butter with the olive oil. When the butter and oil are hot, add the coated chicken breasts. Brown the chicken for about 3 to 4 minutes on each side.
Add the garlic and cook for 1 minute longer. Add the walnuts, chicken broth, wine, and lemon juice. Bring to a simmer.
Reduce heat to low, cover the pan, and simmer for 8 to 10 minutes, or until the chicken reaches 165 F. Taste the sauce and adjust seasonings.
Sprinkle with Parmesan cheese and serve the chicken with the sauce.
Makes 6 Servings
Site Search