Creamy Vegetable Chowder With Sausage
by
, May 10, 2017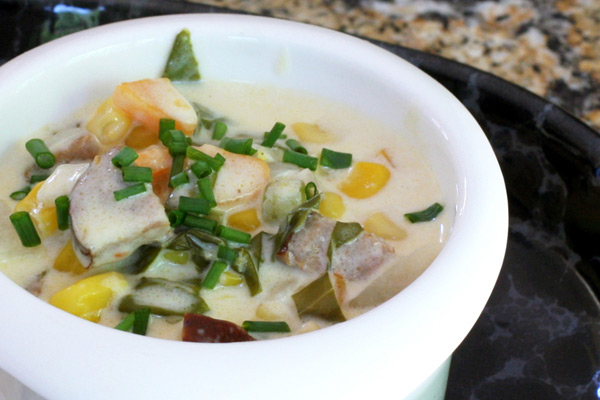 This hearty sausage and vegetable chowder includes a wide variety of vegetables, including potatoes, corn, carrots, celery, and spinach. Add some sliced mushrooms or mixed frozen vegetables, if you'd like, and omit the sausage for a vegetarian version.
Prep Time: 20 minutes
Cook Time: 30 minutes
Total Time: 50 minutes
Ingredients:
Instructions:
Heat the vegetable oil in a Dutch oven or large saucepan over medium heat.
Add the diced sausage to the hot oil along with the diced onion, celery, and carrot. Cook, stirring, until onion is translucent. Add the butter and stir until melted. Stir in flour until well blended. Continue cooking, stirring, for 2 minutes.
Grdually add the vegetable broth, stirring constantly. Add the potatoes, corn, and spinach. Bring to a boil. Reduce heat to low and cover the pan. Continue cooking, stirring frequently, until the vegetables are tender, or about 20 to 30 minutes.
Add the cream and heat through. Add salt and pepper, to taste.
Stir half of the parsley into the chowder and use the rest to garnish servings.
Makes 6 Servings
Site Search