Veal With Artichokes and Tomatoes
by
, August 14, 2017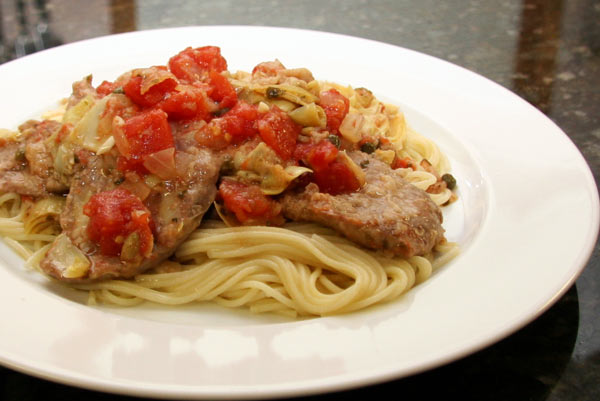 This is an easy veal skillet dish with plenty of flavor. Tomatoes, garlic, and artichokes complement the veal nicely. This is an excellent dish to serve over hot cooked thin spaghetti or capellini.
Related:
Veal Piccata
Prep Time: 10 minutes
Cook Time: 20 minutes
Total Time: 30 minutes
Ingredients:
Instructions:
Combine flour, salt, and pepper in a bowl; dredge veal with flour mixture.
Heat the olive oil in a large skillet over medium heat. Add the veal and cook for about 2 minutes on each side, or until browned. Remove the meat and set aside.
Add the onion to skillet and cook until tender. Add the garlic, the cooked veal, tomatoes, artichokes, parsley, and capers. Cover and simmer for about 15 minutes, or until the veal is tender.
Makes 4 Servings
Site Search