Vanilla Cream Scones
by
, October 22, 2017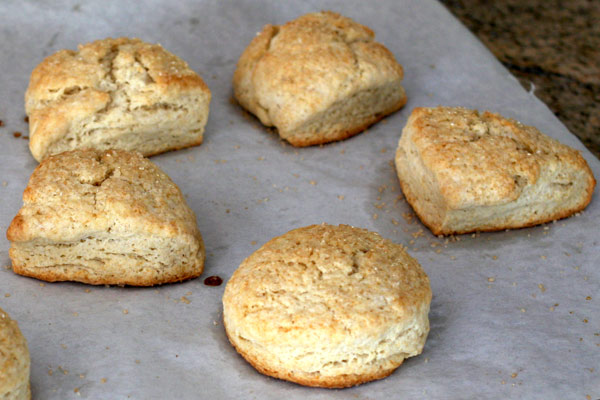 These easy scones are made with heavy cream and vanilla. Heavy cream provides the fat for the scone dough and melted butter is brushed over the tops. Add some coarse sugar or vanilla sugar to the tops. Serve the scones with jam or lemon curd.
Related:
Strawberry Shortcakes With Sweet Cream Scones
Prep Time: 10 minutes
Cook Time: 14 minutes
Total Time: 24 minutes
Ingredients:
Instructions:
Heat the oven to 375 F.
Line a large baking sheet with parchment paper or spray lightly with cooking spray.
In a large bowl, combine the flour, baking powder, salt, and sugar. Whisk or stir to blend ingredients.
In a cup, measure the cream; add the vanilla extract. Stir the cream mixture into the dry ingredients just until moistened.
Turn the dough out onto a floured surface and knead 2 or 3 times until you have a soft dough. Don't overwork the dough. Pat the dough into 2 circles about 1/2-inch in thickness. Brush generously with the melted butter and then sprinkle with vanilla sugar or granulated sugar.
Cut each circle into 6 wedges.
Arrange the scones in the prepared baking pan and bake for 12 to 15 minutes, or until tops are browned.
Makes 12 servings.

Buy from Amazon: India Tree Vanilla Sugar, 3 lb
Site Search