Twice Baked Potatoes With Mushrooms
by
, July 7, 2017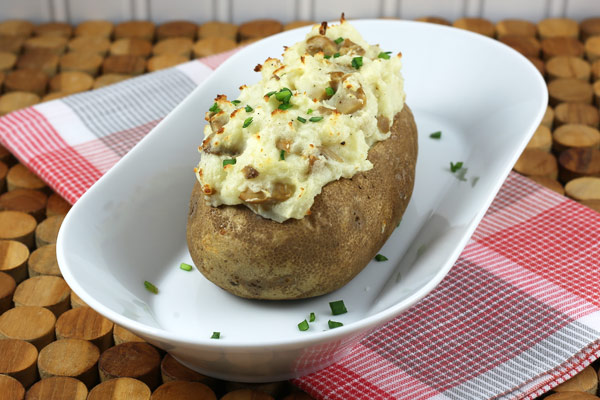 These stuffed twice-baked potatoes are easy to fix with baking potatoes and chopped mushrooms. Add some cheese to the mashed potato stuffing.
Prep Time: 15 minutes
Cook Time: 55 minutes
Total Time: 1 hour 10 minutes
Ingredients:
Instructions:
Preheat the oven to 450 F.
Scrub potatoes and prick them with a fork in several places. Place the potatoes on a rack and bake for 45 to 55 minutes, or until very tender.
Meanwhile (about 10 minutes before the potatoes are done) in a skillet over medium heat, melt 3 tablespoons of butter. Saute mushrooms until tender; set aside.
Just before the potatoes are done, heat the milk in a saucepan or microwave just until hot.
Slice a thin slice from the top of each potato. Scoop the potato out into a bowl leaving shell intact.
Add the heated milk to the potatoes in the bowl and beat until fluffy. Season with salt and pepper, to taste.
Stir the hot mushrooms and butter into the potatoes.
Pile potato mixture into the shells. Melt the remaining 1 tablespoon of butter and brush over the tops. Sprinkle with chives or parsley.
Place the potatoes back in the oven and bake until browned.
Variation
Top the potatoes with shredded cheese just before the second bake or mix about 1/2 cup of shredded cheese into the mashed potato mixture along with the mushrooms.
Makes 4 Servings
Site Search