Tuscan Pasta With Italian Sausage, Sun Dried Tomatoes, and Parmesan Cream
by
, August 28, 2017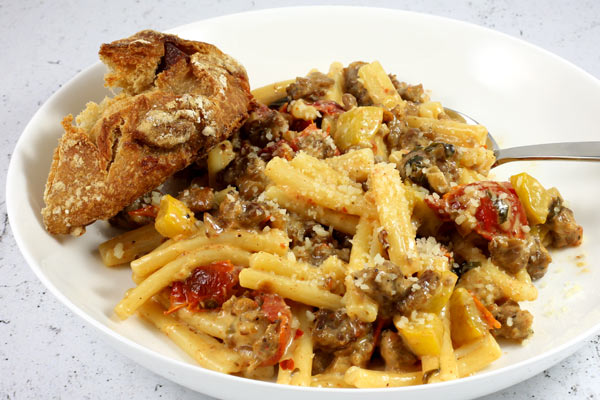 This pasta dish is a flavorful combination of cooked Italian sausage, cream, Parmesan cheese, basil, and sun dried tomatoes. Use hot or sweet Italian sausage in this dish and be sure to pass extra Parmesan cheese at the table.
Related:
Rich 2-Cheese Penne Pasta Bake
Prep Time: 20 minutes
Cook Time: 35 minutes
Total Time: 55 minutes
Ingredients:
Instructions:
Break the sausage up in a large skillet over medium heat. Cook for 5 minutes, stirring frequently. Add the onion and garlic to the skillet and continue cooking until the sausage is thoroughly cooked, stirring frequently.
To the skillet, add the squash, sun-dried tomatoes, and wine. Continue cooking until the squash is just tender, stirring constantly.
Add the cream to the skillet along with the Parmesan cheese and basil. Cook for about 5 minutes longer, stirring frequently. Taste and add salt and freshly ground black pepper, as needed.
Meanwhile, cook the pasta in boiling salted water following the package directions. Toss with the sauce mixture.
Serve with extra Parmesan cheese.
Makes 6 Servings.
Site Search