Turkey and Rice Bake With Spinach and Parmesan Cheese
by
, October 7, 2017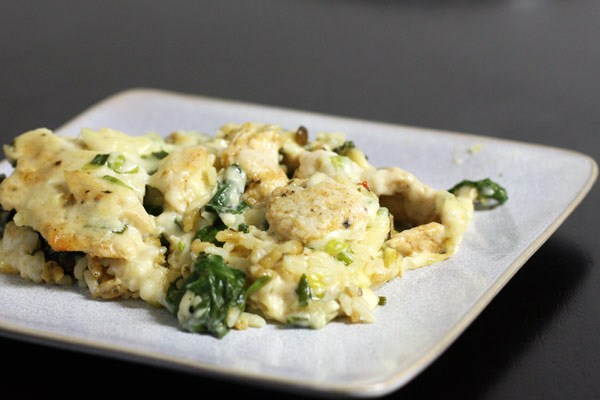 This is a quick and easy dish you can throw together at a moment's notice. Lean turkey cutlets are used in the recipe, but it would be excellent with chicken or ham as well. It's even quicker if you use cooked leftover turkey or chicken.
Related:
Turkey, Brie, and Cranberry Quesadilla
Turkey and Rice Casserole
Prep Time: 15 minutes
Cook Time: 30 minutes
Total Time: 45 minutes
Ingredients:
Instructions:
Heat oven to 350 F.
Grease a shallow 2-quart baking dish.
Sprinkle turkey with salt and pepper.
Heat the olive oil in a large skillet over medium heat; add turkey and cook, stirring, until cooked through. Remove to a plate and set aside.
Melt the butter in the same skillet; add the green onions and garlic and cook, stirring, for 2 minutes. Add the flour and stir until well blended; continue cooking for 2 minutes, stirring constantly. Gradually add the milk and basil. Cook until thickened, stirring constantly.
Add Parmesan cheese and continue cooking until cheese has melted. Transfer the sauce to a bowl and set aside.
In the same skillet, combine the cooked rice with the spinach and 2 tablespoons of chicken stock, water, or dry white wine. Cook, stirring, until spinach is wilted. Taste and add salt and pepper, as needed.
Spoon the rice mixture into the prepared baking dish. Top with the cooked turkey then spread sauce over all. Sprinkle with paprika.
Bake for 20 minutes, until bubbly.
Makes 8 servings.
Site Search