Turkey Cutlets With Creamy Pesto Sauce
by
, June 21, 2017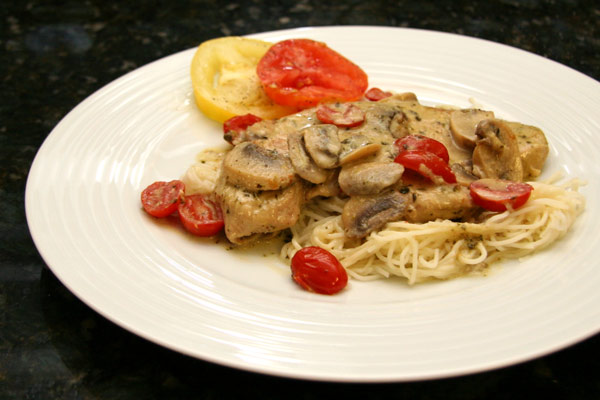 Turkey cutlets are lean, delicious, and versatile. This recipe uses prepared basil pesto and heavy cream to make the easy sauce. Serve with pasta for a fabulous meal. If the cutlets are very thin, use 2 or 3 for each serving and cut the cooking time accordingly.
Prep Time: 15 minutes
Cook Time: 15 minutes
Total Time: 30 minutes
Ingredients:
Instructions:
Pat the cutlets dry with paper towels and season both sides with salt and pepper.
Heat the olive oil in a large skillet over medium-high heat. Add the turkey cutlets and cook for about 2 minutes on each side, or until lightly browned. Remove to a plate and set aside.
Add the sliced mushrooms to the pan and cook until browned, stirring frequently.
Add the turkey cutlets back to the skillet and pour chicken broth over all. Reduce heat to medium and simmer, uncovered, for 5 minutes.
Add the cream and pesto; cover and cook over low heat for 5 minutes longer.
Add tomato halves and cook, uncovered, for 1 minute longer.
Serve with hot cooked spaghetti or capellini and freshly grated Parmesan cheese.
Makes 4 Servings
Site Search