Turkey Cutlets and Asparagus With Creamy Sauce
by
, August 14, 2017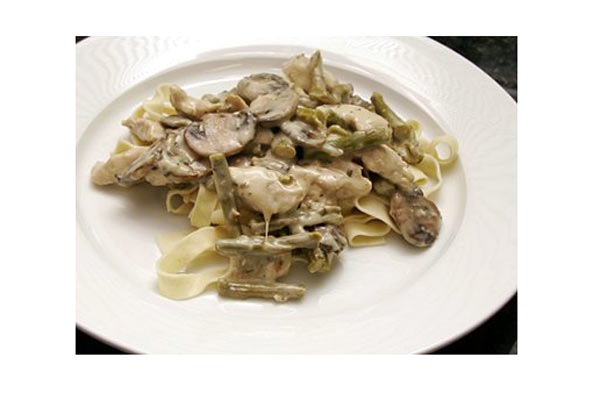 Turkey cutlets team up with fresh or frozen asparagus and mushrooms in this easy recipe. Serve the turkey and sauce over hot cooked noodles, rice, or cauliflower rice.
Related:
Turkey Cutlets With Creamy Pesto Sauce
Prep Time: 10 minutes
Cook Time: 14 minutes
Total Time: 24 minutes
Ingredients:
Instructions:
Heat the oil and 1 tablespoon of butter in a large skillet over medium heat. Add the mushrooms and cook until golden brown. Remove to a plate and set aside.
Slice the turkey cutlets into strips and add them to the skillet. Cook for 5 minutes, stirring constantly. Remove to the plate with the mushrooms.
Trim the asparagus and cut into 2-inch lengths.
Add the asparagus to the skillet with 1/2 cup chicken broth to the pan. Continue cooking, stirring, just until the asparagus is tender. Add the mushrooms and turkey back to the skillet and set aside.
Heat 4 tablespoons butter in a saucepan; stir in 4 tablespoons flour. Cook, stirring, for 2 minutes.
Slowly add 1 cup chicken stock to the flour mixture and continue cooking, stirring, until thickened.
Add the cream, sherry, and salt and pepper, along with 1/2 cup of Parmesan cheese.
Add the turkey mixture to the sauce and heat through.
Serve over pasta or rice or use the mixture to fill crepes.
Serve with extra Parmesan cheese.
Makes 4 Servings
Site Search