Turkey, Brie, and Cranberry Quesadilla
by
, September 15, 2017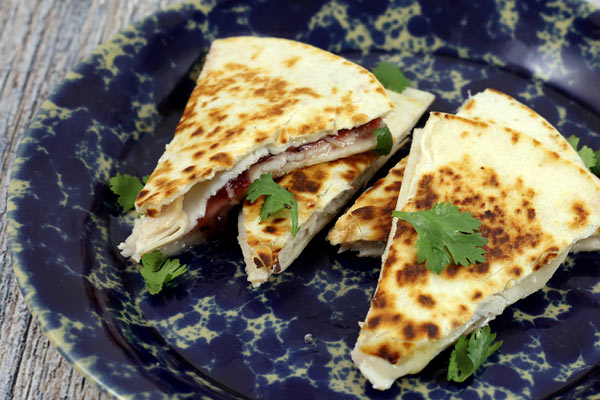 This complementary combination of turkey, cranberry sauce, and brie cheese makes a fabulous after-the-holiday quesadilla. It's a simple and unique way to enjoy leftover turkey, or use deli turkey and make it any time of the year.
Related:
After-the-Holiday Hot Turkey Sandwich With Gravy
Prep Time: 10 minutes
Cook Time: 5 minutes
Total Time: 15 minutes
Ingredients:
Instructions:
Slice or dice the brie cheese into small pieces. Spread half of the cheese over a tortilla.
Place the sliced or shredded turkey on the cheese layer. Spoon the cranberry sauce evenly over the turkey and spread gently.
Place the remaining brie cheese over the turkey and cranberry sauce layer and then sprinkle with salt, pepper, and cilantro, if using. Top with the second tortilla. Press gently.
Heat a few teaspoons of vegetable oil in a skillet over medium-low heat.
When the oil is hot and shimmering, add the quesadilla to the skillet.
Cook until browned on the bottom. Flip and brown the other side.
Slice into wedges to serve.
Makes 2 servings.
Site Search