Turkey Cobbler With Drop Biscuit Topping
by
, June 21, 2017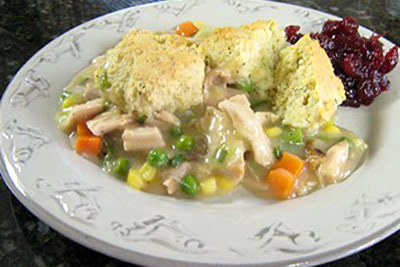 This tasty turkey cobbler -- also known as a "gobbler cobbler" -- is made with a savory turkey and gravy filling and drop biscuit topping.
Prep Time: 15 minutes
Cook Time: 35 minutes
Total Time: 50 minutes
Ingredients:
Biscuit Topping
Instructions:
Preheat the oven to 400 F.
Butter a 2-quart baking dish.
In a large saucepan, heat 5 tablespoons butter over medium-low heat until foamy; add the sliced celery and cook until just tender. Add the scallions and cook 1 minute longer. Add the 6 tablespoons of flour and stir until well blended and bubbly. Continue cooking for about 2 minutes, stirring constantly.
Add chicken broth and turkey gravy to the flour and vegetable mixture; continue cooking, stirring, until thickened and bubbly. Add 1/2 teaspoon of salt, the black pepper, 1/4 teaspoon of poultry seasoning, the thawed vegetables, and turkey; heat through.
Pour the turkey mixture into the prepared baking dish.
Prepare the Biscuit Topping
In a medium bowl, whisk 1 egg with the milk and melted butter.
In another bowl, blend the 1 cup of flour with cornmeal, baking powder, 1/4 teaspoon of salt, 1 scant teaspoon of poultry seasoning, and parsley.
With a wooden spoon, stir dry ingredients into the egg and milk mixture until well blended.
Drop spoonfuls of the dough evenly over the hot filling.
Bake for 25 to 30 minutes, or until topping is browned and filling is bubbly.
Serve with cranberry sauce on the side, if desired.
Makes 4 to 6 Servings
Site Search