Tortellini Soup With Sausage, Crockpot or Stovetop
by
, July 1, 2017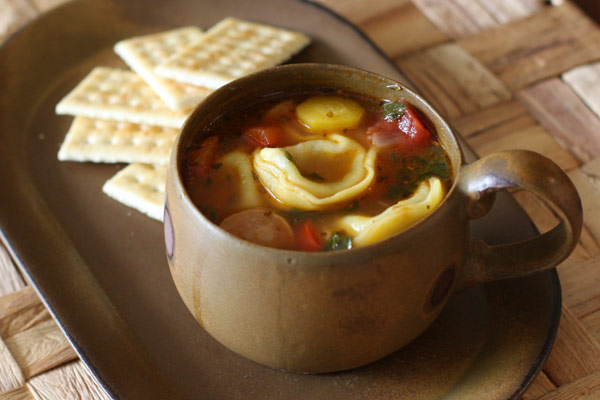 This easy tortellini soup is flavored with Italian sausage, garlic, and tomatoes.
Prep Time: 12 minutes
Cook Time: 1 Hour 5 minutes
Total Time: 1 Hour 17 minutes
Ingredients:
Instructions:
Remove sausage from casing and brown in a Dutch oven or stockpot over medium heat, breaking it up as it cooks. Drain the sausage and discard excess fat. Add the onions and garlic to the sausage and cook for about 2 to 3 minutes longer.
Meanwhile, thaw the frozen spinach in a colander under cool running water and then squeeze out as much moisture as possible.
Add the spinach. beef stock, tomatoes, and carrots to the pot. Bring to a boil; reduce the heat to low and simmer for about 45 minutes to 1 hour, or until vegetables are tender.
Add the tortellini and cook for the length of time indicated on package directions.
Slow Cooker
For the slow cooker, follow the first three steps and then transfer to the slow cooker and cook on low for 6 to 8 hours.
Cook the tortellini following the pachage directions. Drain and add to the slow cooker about 10 minutes before the soup is done.
Makes 6 Servings
Site Search