Glazed Tangerine Bundt Cake
by
, September 16, 2017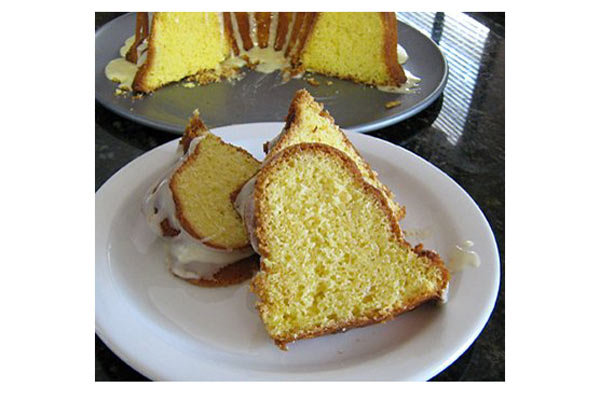 Tangerine zest and juice adds flavor and color to this delicious cake. Feel free to substitute juice and zest from clementines, oranges, or tangelos.
The pictured cake was baked in a 10-cup Nordic Ware Star Bundt pan.
Related:
Orange Yogurt Pound Cake
Prep Time: 15 minutes
Cook Time: 35 minutes
Total Time: 50 minutes
Ingredients:
Tangerine Cake
Tangerine Glaze
Instructions:
Preheat the oven to 350 F.
Grease and flour a 10 or 12-cup Bundt cake pan.
In a bowl, combine the flour, baking powder, and salt; stir to blend thoroughly and set aside.
In a large mixing bowl with an electric mixer, beat 1 stick of butter until light. Gradually beat in the granulated sugar; beat until light and fluffy.
Add the grated tangerine zest to the creamed mixture and stir to blend. Add the sifted dry ingredients to the batter about one-third at a time, alternating with half of the tangerine juice, ending with dry ingredients.
Beat until the batter is smooth and well blended.
In another bowl with clean beaters, beat the egg whites until stiff peaks form. Carefully fold the egg whites into the batter until well blended.
Spoon batter into the prepared Bundt cake pan.
Bake for 25 to 35 minutes, or until a toothpick comes out clean when inserted into the center of the cake.
Cool the cake in the pan for 10 minutes; invert onto a rack to cool completely.
Glaze with the tangerine glaze (instructions below) or simply dust with powdered sugar.
Tangerine Glaze
Sift the powdered sugar into a bowl and add 1 tablespoon of melted butter, 2 teaspoons finely grated tangerine zest, and enough tangerine juice to make a glaze which can be drizzled over the cake with a spoon. Drizzle it over the cooled cake.
Makes 14 servings.
Site Search