Tex-Mex Ground Beef Ranch Casserole
by
, July 8, 2017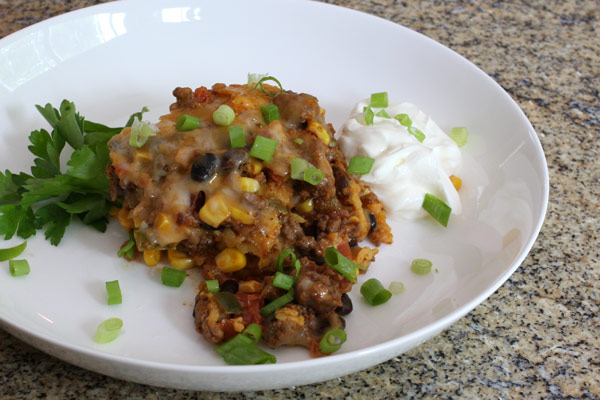 The cornmeal mush mixture is chilled and cut into squares to make the tamale layers. It's a ranch-style ground beef casserole made with chilled tamale mixture instead of tortillas. Substitute strips of corn tortillas for the tamale layers if you'd like.
Prep Time: 15 minutes
Cook Time: 55 minutes
Total Time: 1 hour 10 minutes
Ingredients:
Beef Filling
Instructions:
In a medium saucepan, combine the cornmeal, 1 cup of water, and 1/4 teaspoon salt; stir to blend. Cook over medium heat for about 5 minutes, stirring frequently, or until thickened. Pour into a greased 9-by-13-by-2-inch baking pan. Chill until solid.
Preheat the oven to 350 F.
Grease a 2-quart casserole dish.
In a large skillet over medium heat, fry the bacon until crisp; drain on paper towels then crumble. Set aside. Pour off all but 1 tablespoon of the drippings. Brown the ground beef with 1/2 teaspoon salt and 1/8 teaspoon of black pepper; remove the ground beef to a plate and set aside.
Leave about 1 tablespoon of drippings in the skillet and place it back over medium heat. Saute onion, celery, and bell pepper until the onion is translucent. Add the garlic and continue cooking for 1 minute. Add the tomatoes, corn, beans, cheese, and remaining 1/2 teaspoon salt.
Remove the chilled cornmeal mixture from the refrigerator. Invert the pan on a flat surface to remove in one piece. Cut it 1 1/2-inch squares. Set aside 10 cornmeal squares for topping and then place half of the remaining squares into the bottom of the greased casserole. Top with half of the browned ground beef and half of the vegetable mixture and crumbled bacon. Make another layer of cornmeal cubes, ground beef, another layer of vegetables and bacon. Arrange the 10 reserved cornmeal cubes around the edge of baking dish.
Bake for 40 minutes.
Makes 6 Servings
Site Search