Sweet Cucumber Pickles
by
, October 21, 2017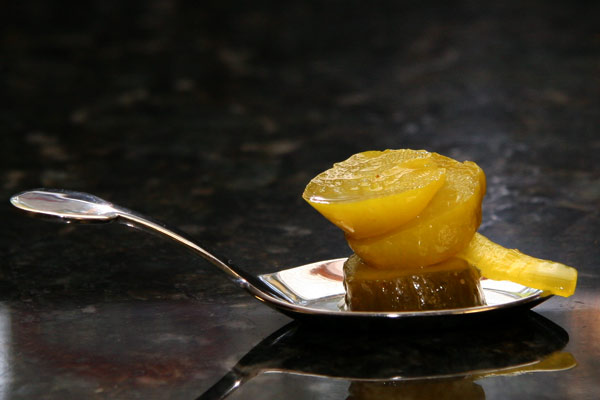 Sliced red bell peppers and onions add flavor and color to these sweet cucumber pickles.
Related:
Quick Pickled Onions
Mom's Bread and Butter Pickles
Prep Time: 35 minutes
Cook Time: 20 minutes
Total Time: 45 minutes
Ingredients:
Instructions:
Wash the jars and lids in hot soapy water. Put the jars put them in a large water bath canner. Fill the pot about two-thirds full with water and bring to a simmer. Reduce the heat to low and simmer for 10 minutes. Keep the jars in the hot water until it's time to fill them.
Put the lids in a saucepan of water; bring to a simmer. Keep warm.
Quarter the onions and slice thinly. Remove the stem from the bell peppers. Remove the seeds and white membrane and then slice them.
In a bowl, combine the sliced cucumbers with the peppers and onions. Toss with the salt and let stand for 30 minutes. Drain in a large colander and rinse under cold water.
In a large, nonreactive pot or Dutch oven over medium-high heat, combine the vinegar, sugar, turmeric, and mustard seeds. Add the drained and rinsed vegetables and bring to a boil. Boil for 5 minutes, stirring frequently.
With clean tongs, remove a jar from the water. Fill it with vegetables and liquid, leaving 1/4-inch headspace. Remove any air bubbles with a small spatula (silicone or plastic, not metal). Wipe the rim and threads of the jar with a damp paper towel and then place the lid on the jar. Screw the band on "fingertip-tight." Don't over-tighten. Repeat with the remaining jars until all of the vegetables and liquid are used.
Bring the water in the canner to a boil.
Place the jars in a rack and lower them into the hot water in the canner. The water should be at least 1 inch above the jars. If necessary, add more hot or boiling water to the canner. Lower the heat to maintain a gentle boil and cover the canning kettle. Boil for 5 minutes. For altitudes over 1,001 feet, see the table below.
Altitude Adjustments
| Altitude Feet | Increase Processing |
| --- | --- |
| 1,001 to 3,000 | 5 minutes |
| 3,001 to 6,000 | 10 minutes |
| 6,001 to 8,000 | 15 minutes |
| 8,001 to 10,000 | 20 minutes |
Makes about 8 pints.
Site Search