Sweet and Spicy Chicken Thighs
by
, August 30, 2017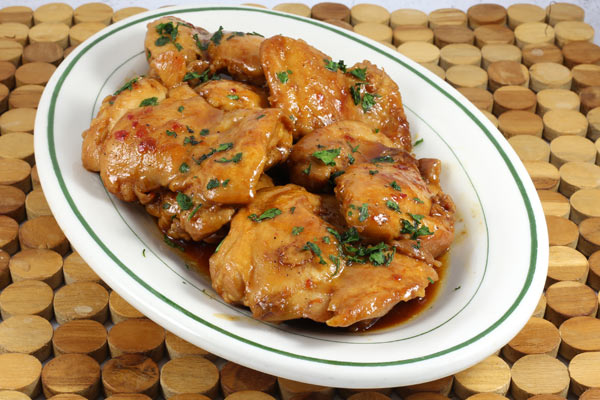 This recipe takes just minutes to prepare and cook, and it is a great way to enjoy boneless chicken thighs. While I usually like chicken thighs on the bone with skin, I'll definitely make this recipe again. The sauce boils down to make a sweet, spicy glaze on the chicken.
Related:
Honey Garlic Chicken Thighs
Top 24 Easy Chicken Recipes
Prep Time: 5 minutes
Cook Time: 20 minutes
Total Time: 25 minutes
Ingredients:
Instructions:
In a small bowl, combine the vinegar, soy sauce, brown sugar, sambal, and pepper. Whisk to blend thoroughl.
Pat the chicken dry with paper towels. Sprinkle with kosher salt.
Heat the oil in a large skillet over medium heat.
When the oil is hot and shimmering, add the chicken thighs. Cook for about 4 to 5 minutes, or until browned; turn and brown the other side.
Pour the soy sauce mixture over the chicken thighs.
Reduce the heat to medium-low and continue cooking until the liquids are reduced and syrupy, and the chicken is well glazed. Turn the chicken thighs frequently.
Garnish with fresh chopped parsley or cilantro.
Makes 4 to 6 Servings.
Site Search