Sweet Potato Loaf Cake With Cream Cheese Frosting
by
, May 15, 2017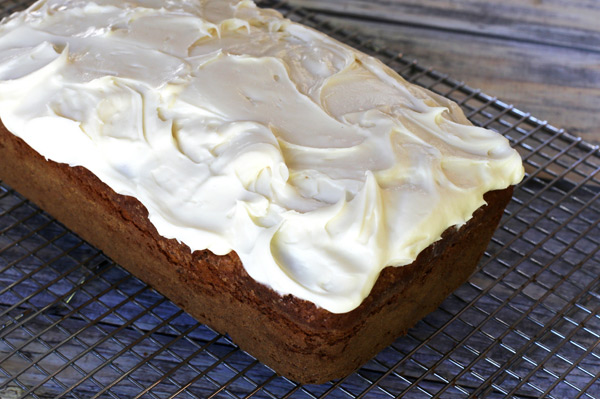 This sweet potato cake is filled with chocolate chips or raisins. The cake is topped with a fluffy cream cheese frosting.
Prep Time: 15 minutes
Cook Time: 45 minutes
Total Time: 1 hour
Ingredients:
Instructions:
Heat oven to 325 F.
Grease and flour a 9-by-5-inch loaf pan.
In a mixing bowl with an electric mixer, cream the 1 stick of butter and brown sugar until light. Beat in the egg and 1/2 teaspoon of vanilla. Blend in the sweet potato puree.
In another bowl, combine the flour, baking powder, soda, salt, cinnamon, nutmeg, and allspice. Whisk or stir to blend thoroughly.
Add the dry ingredients to the first mixture and mix until smooth and well blended. Stir in the nuts and mini chocolate chips or raisins.
Spread the batter in the prepared loaf pan. Bake for 45 to 50 minutes, until a toothpick inserted in the center of the loaf comes out clean.
Cool in the pan for 10 minutes.
Carefully remove to a rack to cool completely.Makes 1 loaf cake.
Cream Cheese Frosting
Combine 4 tablespoons of butter with the 4 ounces of cream cheese. Sift 2 cups of confectioners' sugar into the mixture until well blended. Beat in the vanilla.
Frost the cake. Sprinkle with chopped pecans or coconut, if desired.
Makes 8 to 10 Servings
Site Search