Tex-Mex Beef and Bean Stuffed Squash
by
, September 18, 2017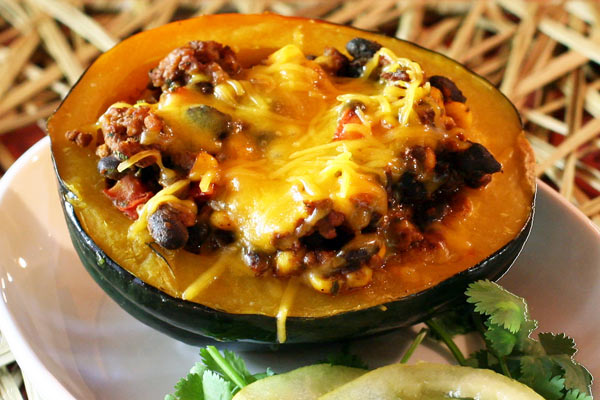 Tex-Mex flavors abound in this stuffed squash. The filling is made with ground beef, black beans, corn, and spicy seasonings. The stuffed squash is baked to perfection with a cheese topping.
Related:
Maple Glazed Squash Rings
Prep Time: 20 minutes
Cook Time: 1 hour 15 minutes
Total Time: 1 hour 35 minutes
Ingredients:
Instructions:
Preheat the oven to 350 F.
Line a 9-by-13-by-2-inch baking pan with foil; spray the foil with cooking oil spray or grease it lightly.
Cut both of the acorn squash in half lengthwise and scoop out seeds. Spray the cut sides with cooking oil spray and place the halves, cut side down, on the foil. Add about 1/2-inch of water to the pan and then cover with foil. Bake for 45 to 55 minutes, or until the squash is fork-tender.
Crumble the beef into a large skillet and place the pan over medium heat. Add the onion and cook until the beef is no longer pink, stirring frequently. Add the garlic and bell pepper and cook for 2 minutes longer, stirring frequently.
Add the drained black beans, corn, salt and pepper, chili powder, and cumin; heat through and then set aside or refrigerate until the squash is tender.
When the squash is cool enough to handle, stuff it with the beef and bean mixture. Arrange the stuffed squash in the baking pan.
Bake for about 20 to 25 minutes, until hot. Top with the shredded cheese and continue baking for a few minutes longer, or until cheese is melted.
Makes 4 servings.
Site Search