Strawberry Shortcakes With Sweet Cream Scones
by
, September 29, 2017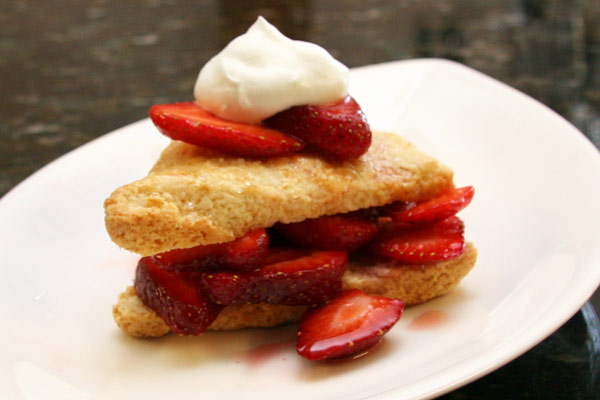 Sweetened scones make a fabulous base for these strawberry shortcakes. The biscuit-like scones are made with cream and butter. Add strawberries and whipped cream and enjoy!
Related:
Strawberry and Peach Dessert Sauce
Prep Time: 15 minutes
Cook Time: 15 minutes
Total Time: 30 minutes
Ingredients:
Strawberries
Scones
Glaze
Whipped Cream
Instructions:
Rinse the strawberries; hull them and slice thinly. In a medium bowl, combine the sliced strawberries with 1/4 cup sugar. Cover and refrigerate.
Heat oven to 375 F.
Lightly grease a scone pan or baking sheet.
In a mixing bowl, combine the flour, 1/3 cup of granulated sugar, baking powder, and salt; stir to blend. Cut in butter with a pastry blender or fingers until the mixture is similar to coarse crumbs.
In another bowl, whisk 1 egg with vanilla and 1/2 cup cream.
Stir the cream mixture into the flour mixture just until combined.
On a floured surface, knead the dough a few times. Pat the dough into the scone pan or pat into a circle and cut into biscuits or triangles.
For the glaze, whisk 1 egg with 2 tablespoons of cream.
Place dough triangles in the scone pan or place cut-outs on the baking sheet; brush scones with the glaze mixture. If desired, top with a large-grain decorating sugar.
Bake for 15 to 18 minutes, or until lightly browned.
Meanwhile, beat the 1 cup of heavy cream until the cream begins to stiffen; beat in powdered sugar until the mixture holds peaks.
Split the scones in half horizontally; spoon strawberries over the bottom. Put the top of the scone on the strawberries and top with whipped cream and a few strawberry slices.
Makes 8 servings.
Site Search