Easy Steak Diane
by
, August 3, 2017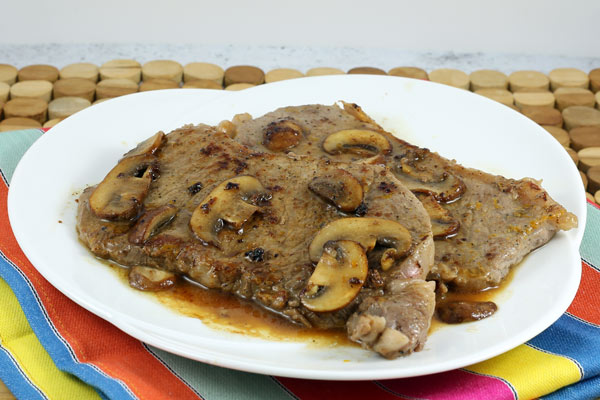 These simple strip steaks are seasoned, seared, and then finished with an easy mushroom and wine sauce. Lots of butter and some lemon pepper add flavor to the steaks.
Prep Time: 8 minutes
Cook Time: 10 minutes
Total Time: 18 minutes
Ingredients:
Instructions:
Sprinkle the steaks with kosher salt. In a small bowl, combine the dry mustard and lemon pepper; sprinkle over the steaks.
In a large skillet over medium heat, melt 3 tablespoons of butter. Brown the steaks on both sides. The length of time depends on the thickness of the steaks and your preference. For four steaks, cook in two batches. Remove the steaks to a warm platter and keep warm.
Add the sliced mushrooms to the skillet. Cook until golden brown, stirring constantly. Remove the mushrooms to the platter.
Add the remaining 1 tablespoon of butter to the skillet. Add the wine and Worcestershire sauce. Cook for 1 to 2 minutes to reduce slightly.
Pour the sauce over the steaks.
Beef Temperature Chart
Rare - 120 F to 125 F
Medium-Rare - 130 F to 135 F
Medium - 140 F to 145 F
Medium-Well - 150 F to 155 F
Well Done - 160 F and above

Note: The USDA recommends beef steaks and roasts be cooked to a minimum temperature of 145 F (ground beef, 160 F).

Makes 2 to 4 Servings
Site Search