Sriracha Glazed Roast Chicken
by
, September 27, 2017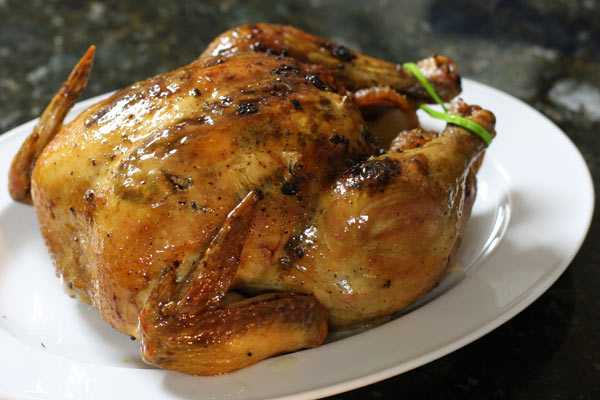 A spicy Sriracha sauce glaze finishes this roasted chicken perfectly. The combination of Sriracha, soy sauce, and a little sesame oil and vinegar makes a delicious glaze.
Related:
Lemon and Herb Roasted Chicken
Prep Time: 15 minutes
Cook Time: 1 hours 35 minutes
Total Time: 1 hour 50 minutes
Ingredients:
Instructions:
Heat the oven to 450 F.
Line a large baking pan or roasting pan with foil.
Sprinkle the chicken inside and out with salt and pepper.
Place the chicken in the prepared pan.
Roast the chicken for 10 minutes at 450 F. Reduce the oven temperature to 350 F and roast for about 18 to 20 minutes per pound, or until an instant-read thermometer reads at least 165 F when inserted into the thickest part of the thigh.
Meanwhile, combine the Sriracha sauce and the remaining ingredients and blend thoroughly.
Brush with the Sriracha mixture a few times during the last 5 to 10 minutes of roasting time.
Remove the chicken to a platter, tent loosely with foil, and let stand for 10 minutes before slicing.
Makes 4 to 6 servings.
Site Search