Wilted Spinach Salad
by
, September 9, 2017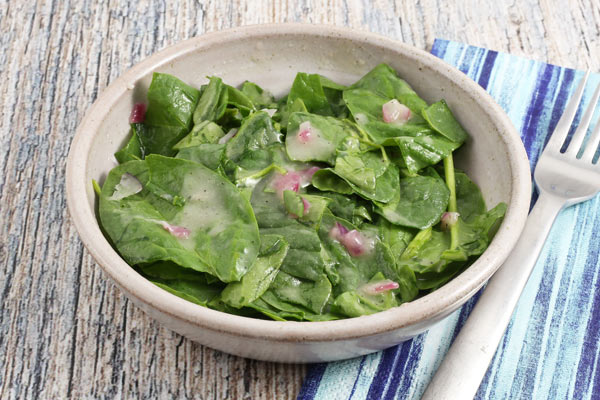 This easy spinach salad is made with fresh spinach and a warm bacon dressing. The dressing wilts the fresh spinach slightly. Add crumbled bacon, sliced radishes, or sliced hard-boiled egg to this basic salad if you like. A bit of sugar and some ground mustard flavors the dressing, but feel free to leave the sugar out and season it with plain salt and pepper.
Related:
Arugula Salad With Orange Vinaigrette
Prep Time: 10 minutes
Cook Time: 5 minutes
Total Time: 15 minutes
Ingredients:
Instructions:
Wash the spinach. Drain well on paper towels and then coarsely chop. Transfer the spinach to a large bowl.
Heat the bacon drippings in a saucepan over medium heat. Add the minced onion to the bacon drippings and cook for about 2 minutes. Add the flour and cook for 1 minute, stirring constantly.
Stir the dry mustard and water into the roux and continue cooking until thickened. Stir in the vinegar and sugar, if using. Continue cooking for about 1 minute, stirring constantly. Taste and add salt and pepper.
Pour the dressing over the spinach and toss to mix.
Makes 4 servings.
Site Search