Special Burgers With a Secret Sauce
by
, May 17, 2017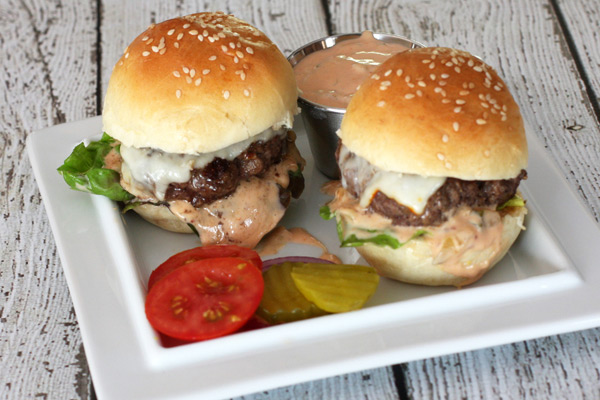 These burgers are seasoned with garlic powder, Worcestershire sauce, and steak sauce. The secret sauce is the perfect topping.
Prep Time: 15 minutes
Cook Time: 10 minutes
Total Time: 25 minutes
Ingredients:
Secret Sauce
Optional Toppings
Instructions:
Combine the ground beef with the steak sauce, Worcestershire, salt, pepper, garlic powder, and a few drops of hot sauce. Blend thoroughly. Shape into 4 to 6 patties, depending on how big you want the burgers. They will shrink when cooked.
Heat the grill and oil grill grates. Alternatively, place a grill pan or skillet over medium-high heat.
Cook on the hot grill or grill pan for about 5 minutes. Flip and continue cooking for about 4 minutes, or until the burgers are cooked to the desired doneness. The minimum safe temperature -- according to the USDA -- for ground beef is 160 F.
Place cheese slices on the burgers and continue cooking just until slightly melted.
Meanwhile, in a bowl, combine the sauce ingredients and blend thoroughly.
Arrange the burgers on toasted buns with lettuce and other toppings, as desired. Serve the sauce on the side.
Makes 4 Servings
Site Search