Spaghetti Squash With Fresh Tomatoes, Basil, and Parmesan Cheese
by
, August 28, 2017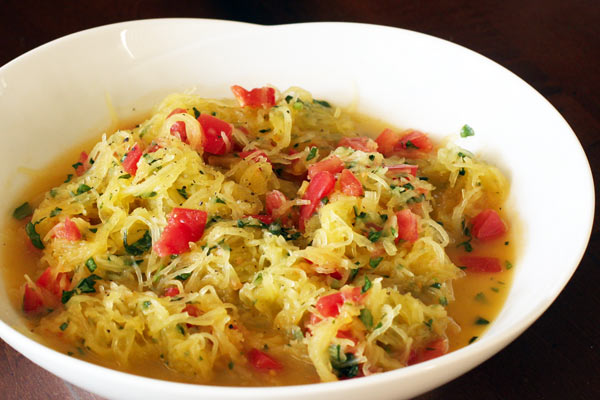 This spaghetti squash is cooked and served with diced tomatoes, fresh basil, garlic, and Parmesan cheese. There are many ways to cook spaghetti squash. You can use a slow cooker, Instant pot, oven, or microwave. This version is made with the microwave oven, but feel free to use another method.
Related:
Tuscan Pasta With Italian Sausage, Sun Dried Tomatoes, and Parmesan Cream
Prep Time: 15 minutes
Cook Time: 14 minutes
Total Time: 29 minutes
Ingredients:
Instructions:
Cut the stem end from the squash and slice it in half lengthwise.
Scoop out seeds and loose, stringy pieces.
Place the halves, cut sides down, in a microwave-safe baking dish. Add 1 inch of water to the baking dish.
Microwave the squash on 100% power for 9 to 12 minutes, or until it is fork tender. The time depends on the size of the squash.
Meanwhile, heat the olive oil or butter in a skillet over medium heat. Add the garlic and cook for 2 minutes, or until softened and aromatic.
When the squash is cool enough to handle, scoop out the spaghetti-like strands and put them in a serving bowl. Add the olive oil or butter and garlic mixture, diced tomato, basil, garlic, pepper, and salt. Add the 1/2 cup of Parmesan cheese and toss to blend.
Serve hot and pass the Parmesan.
Makes 4 Servings.
Site Search