Spaghetti Carbonara
Updated July 1, 2017 by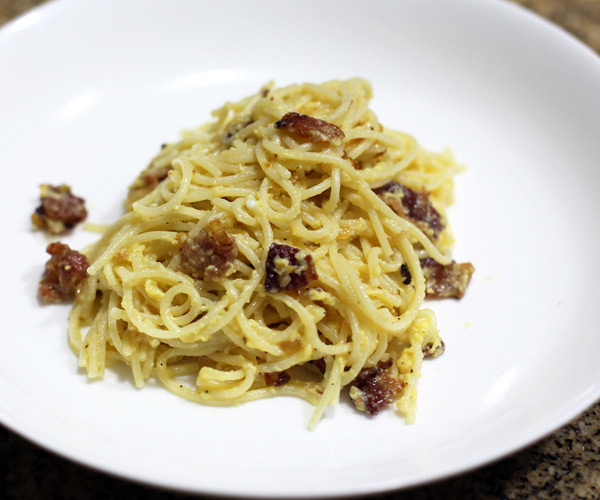 This amazing dish is surprisingly easy to fix, and it makes a wonderful meal with garlic bread or a simple salad. The pasta should be hot when the eggs are added, but not so hot that they end up scrambled.
Prep Time: 10 minutes
Cook Time: 10 minutes
Total Time: 20 minutes
Ingredients:
Instructions:
Fill a large pot with water and 2 teaspoons of salt and place it over high heat.
Meanwhile, put the bacon in a skillet over medium heat and cook until crisp. Drain on paper towels and then transfer to a large bowl. Add the garlic to the skillet and cook for about 1 minute. With a slotted spoon, remove the garlic to the bowl.
In a small bowl, whisk the eggs with half the Parmesan cheese; set aside.
Add the spaghetti to the boiling water and cook until al dente. Reserve about 1/2 to 3/4 cup of the hot pasta water and then quickly drain the pasta in a colander. Add the hot drained pasta to the bacon and garlic in the bowl and toss to combine thoroughly.
Add the egg and cheese mixture to the pasta and toss, adding enough of the reserved pasta water to make a creamy sauce. Add salt and pepper to taste. If desired, toss with some chopped Italian flat-leaf parsley.
Serve the pasta with the reserved Parmesan cheese.
3 to 4 Servings
Site Search