Fried Sole With Parmesan Sauce
by
, September 22, 2017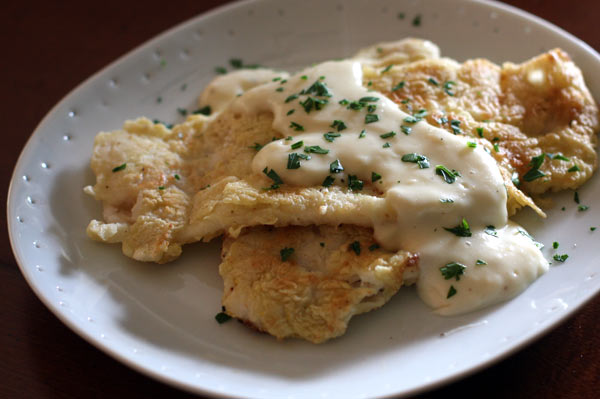 This pan-fried sole is served with a rich and creamy Parmesan cheese sauce. The thin sole fillets are dipped in a cornmeal batter and pan-fried to perfection in about 5 to 6 minutes. Prepare the sauce first and keep it warm until serving time.
Related:
Baked Creole Halibut Fillets
Prep Time: 15 minutes
Cook Time: 16 minutes
Total Time: 31 minutes
Ingredients:
Instructions:
Melt the butter in a saucepan over medium heat. Add the flour and cook until well blended and bubbly. Continue cooking for 2 minutes, stirring constantly. Gradually add the milk to the roux and cook until thickened, stirring constantly. Add the Parmesan cheese and continue cooking for about 3 to 4 minutes.
In a small bowl, beat the egg yolk.
Whisk about 1/2 cup of the hot mixture into the egg yolk and then return the egg yolk mixture to the sauce. Whisk in salt, to taste, then the freshly ground pepper, to taste, and a dash of Worcestershire sauce.
Continue cooking until heated through, whisking constantly. If the sauce seems too thick, whisk in more milk, a little at a time, until you reach the desired consistency. Keep the sauce warm while you cook the fish.
In a small bowl whisk 1/3 cup of flour with the reserved egg white and just enough water to make a batter about the consistency of heavy cream.
Combine the remaining 1/3 cup of flour with the 1/3 cup of cornmeal, 1/2 teaspoon of salt, and a dash of pepper.
Heat the olive oil in a large skillet over medium-high heat.
Dip a fillet into the batter mixture and then coat with the cornmeal/flour mixture. Repeat with the remaining fillets. Fry in the oil in batches until browned and cooked through. It should take about 2 to 3 minutes on each side, depending on the thickness of the fillets.
Arrange the sole fillets on a platter, top with sauce, and garnish with freshly chopped parsley.
Makes 4 servings.
Site Search