Slow Cooker Poached Pears in Red Wine Sauce
by
, September 23, 2017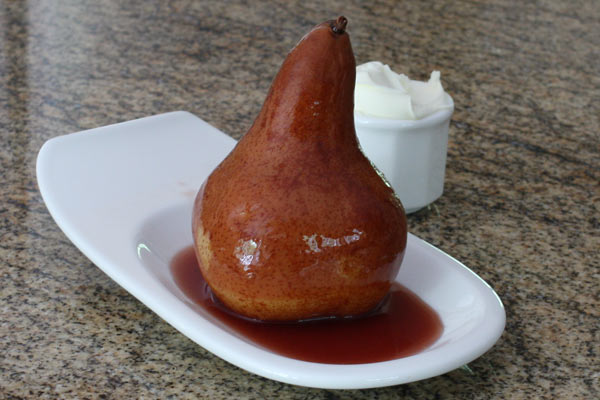 These elegant pears make a fabulous dessert for Valentine's Day or a special dinner. The pears are cooked to tender perfection in the slow cooker with a sweet red wine sauce. Serve them with whipped cream or cream cheese along with biscotti or butter cookies, if you like.
Related:
Fresh Poached Peaches With Raspberry Sauce
Prep Time: 10 minutes
Cook Time: 4 hours
Total Time: 4 hours 10 minutes (Not Including Chilling Time)
Ingredients:
Instructions:
Arrange the pears upright in the slow cooker.
In a small bowl, combine the brown sugar, juice, and wine. Break the cinnamon stick into 2 pieces and place in the slow cooker. Pour the juice mixture over the pears.
Cover the slow cooker and cook on LOW for 4 hours, or until the pears are tender when pierced with a skewer or tip of a knife. Alternatively, cook the pears on HIGH for about 2 hours.
Uncover the slow cooker and let the pears cool, basting frequently. Arrange the pears on a serving dish. Put the juices in a saucepan and simmer for 5 to 8 minutes, until reduced and flavors are more concentrated. Pour the juices over the pears.
Refrigerate for at least an hour, or until thoroughly chilled.
Makes 6 servings.
Site Search