Slow Cooker North Carolina Pulled Pork
by
, August 8, 2017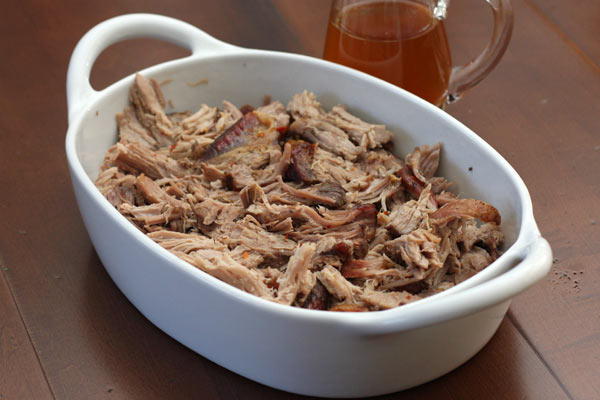 The perfectly seasoned vinegar sauce is what sets this North Carolina pulled pork apart from the rest of the crowd. It's a welcome departure from the usual barbecue sauce-slathered pork, and you can always serve barbecue sauce on the side. Serve the pulled pork with a Carolina style coleslaw.
Prep Time: 20 minutes
Cook Time: 10 hours
Total Time: 10 hours 20 minutes
Ingredients:
Instructions:
Sprinkle the pork roast with the ground red pepper.
Place the roast in the slow cooker with about 1/2 cup of water and cook for 8 to 10 hours or until very tender. Drain thoroughly and discard excess liquids.
In a saucepan, combine the vinegar, hot sauce, crushed red pepper, black pepper, and kosher salt. Place the saucepan over medium heat and bring to a boil. Remove from the heat and set aside.
Chop, shred, or slice the tender cooked pork.
Return the pork to the slow cooker and add 2 to 3 tablespoons of the vinegar sauce, or to taste. Heat the pork until hot and keep warm until ready to serve.
Serve with the vinegar sauce and your favorite barbecue side dishes.
Makes 10 to 12 Servings
Site Search